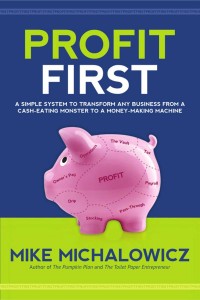 I recently finish reading the book Profit First: A Simple System to Transform Any Business from a Cash-Eating Monster to a Money-Making Machine by Mike Michalowicz and wanted to publish my review of the book. 
Let me start by saying that the book was very easy to read and I enjoyed the author's writing style quite a bit. It was a quick read that delivered deep content in a surprisingly light manner. The author, Mike Michalowicz, has a good sense of humor and at some points I was literally LOL. The book was well organized and whenever a new concept was brought up in a chapter, the author did a good job clarifying and always providing examples of even the simplest of concepts. In addition to his thorough explanations, at the end of every chapter you will find a detailed, numbered action plan/ directions to implement the subject of that particular chapter.
In this next part of the review I want to discuss the content. First off let me give you a little bit of background about myself so that you know where I am coming from. I am an accountant by trade and love reading business books, always looking for those golden nuggets of knowledge that I can use to provide value to my clients or use in my own business. I believe there were definitely some great ideas and concepts in this book that I would love to share with some of my clients, and that is part of the reason I am writing this review. Although the author's system could technically work for everyone, it does take discipline and some extra leg work to implement and customize to your business. Luckily as I mentioned earlier, the book does a great job directing the reader how to go about customizing the system for your business.
As an added bonus the author also included a chapter about how you could apply this system to your personal finances, which is much the same way you would with a business.
I think this book is  a great read for any business owner. There is some great content to be found and it is very easy to read. I would particularly recommend this book to readers that are having cash management issues, as the author has a great system to remedy that. Even if you decide not to apply the book's system, I believe that the book still points out some information that every business owner should be aware of.
If you wish to purchase the book I included a link below to the Amazon page. I bought the Kindle version, so I can attest to the hardcover or audio versions. If you decide to purchase the book, or have previously read it, please leave some comments below, I would love to discuss. As always thank you for reading and have a nice day!